What can I say..........there are wrestlers, and there are wrestlers. Some better than others, some not so good at all! But when it comes to Scott Hall, this guy has it all!

I've watched wrestling on and off again for many years. I've had my favorites over the years, but have yet to see anyone who can come close to looking this good! He has it all - the attitude, the physique, and the looks! As Razor he was hot - and since he's come to WCW to make his challenge with the nWo, he's gotten even better. I was a big fan of his before, but now I look forward even more to when he makes his appearance with the nWo. Sure, the other nWo guys are good, and Kevin Nash isn't a bad looking guy. But no wrestler comes close to Scott Hall. In the WWF you have Shawn Michaels - The Heartbreak Kid - also called the "Boy Toy". Shawn's a good looker, but that's the catch - compared to someone like Scott, he's just a "boy".
Yes, you've probably saying by now "a female has to be writing this!" You're right there! Nothing nicer than sitting down and watching your favorite guy strut his stuff in or around the ring! Monday is personally my absolute worst day of the week - major stress day! But I know that after I come home from work, in a couple of hours I'll be sitting down to watch Nitro and see Scott make his appearance and create all sorts of chaos with the other nWo members. It's a great stress reliever, actually!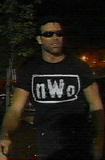 This guy has great moves, and is always psyched for the match. His energy is overflowing, and he is nothing short of fantastic. Okay, okay, I know I'm rambling on here! I just felt that Scott Hall deserved his own page, and being my personal favorite I decided to make one especially for him. Just so he knows, in case he ever stumbles across this site, that he is appreciated! Scott - anyone who looks as good as you I'll always appreciate! Someday maybe I'll get lucky and meet you in person, but until then I just want you to know that you're #1 in my book - keep up the great work Chico!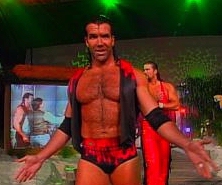 If you're a fellow nWo fan check out these links to my nWo pages.....
send me your comments......

You are theScott Hall fan to visit this page!